Herd Sire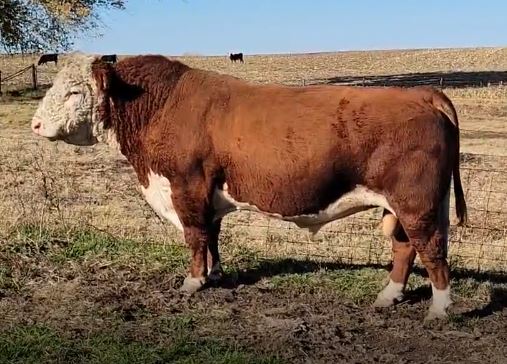 S COVENTRY Y02 4D
CE 10.8 BW 2.9 WW 75 YW 116 Milk 20 M&G 57
Sire: SHF York 19H Y02
Dam: S Annie 936 83B
Home raised York son out of a 1st calf 936 daughter. Coventry scanned an impressive 16.1 REA
at yearling and has been used the last 2 years as our cleanup sire on our Marksman daughters.
He will be our primary herd sire starting in 2019.
GE-EPD enhanced and Homozygous Polled.

AI Sires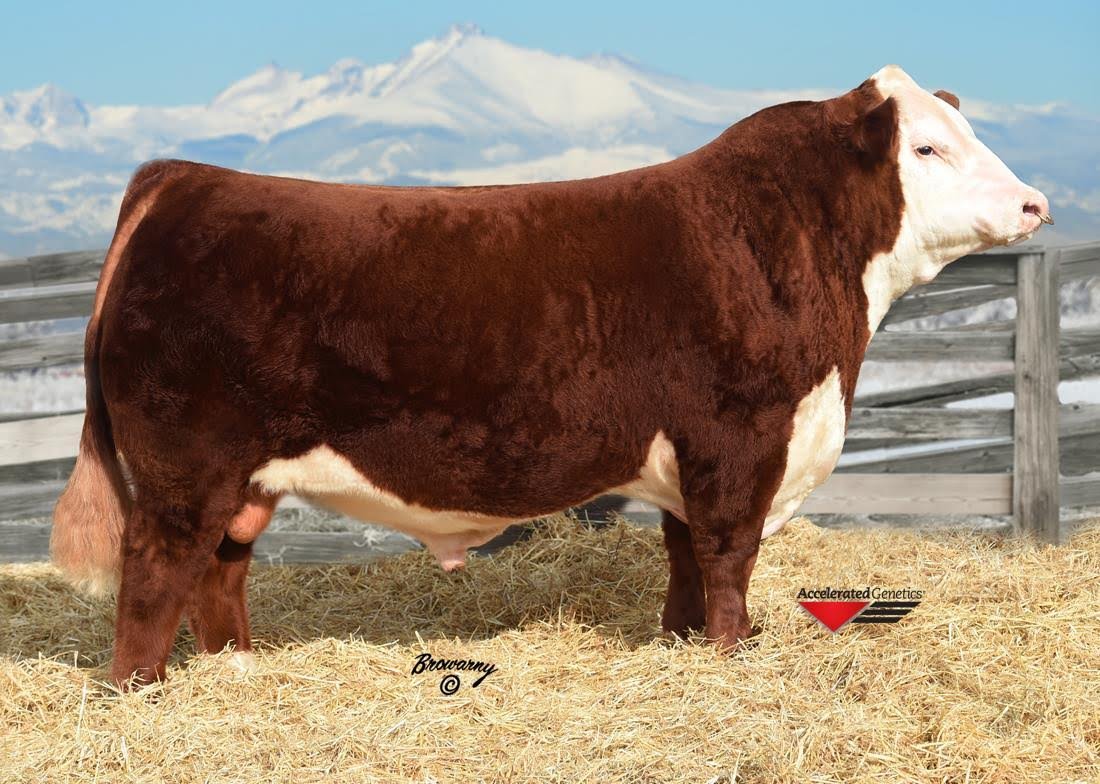 KT SMALL TOWN KID 5051
CE 11.1 BW 0.4 WW 63 YW 103 Milk 35 M&G 66
Comments from Accelerated Genetics: He is best described as a moderate-framed, square-hipped with
lots of volume and rib shape. Small Town Kid's calving ease potential add to his balance of traits for
performance, maternal and carcass merit.
Stacks a pedigree of breed greats with Hometown, Time's A Wastin, About Time, Prospector, and Enhancer.
Three generations of Dams of Distinction on the maternal side of his pedigree.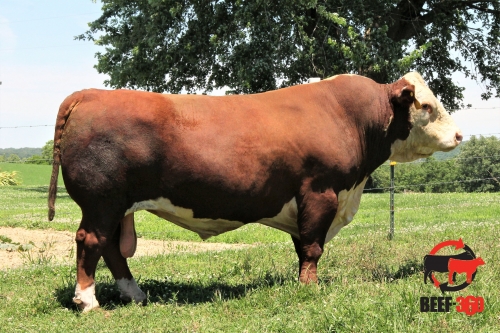 FTF PRIME PRODUCT 226Z
CE 7.9 BW 1.0 WW 64 YW 97 Milk 36 M&G 68
Comments from Falling Timber Farm: FTF Prime Product 226Z is a graduate of the National Sire Reference
Program where he rose to near the top of his contemporaries at almost every benchmark, including growth,
carcass and feed efficiency. He was chosen by the Olsen Ranch and American Hereford Association
to serve as the benchmark sire for the 2017 test.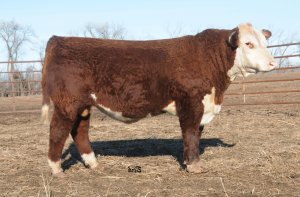 SHF YORK 19H Y02
CE 7.5 BW 1.2 WW 74 YW 110 Milk 15 M&G 52
Comments from Sandhill Farms: Light birth weight, exceptional growth, excellent carcass,
large scrotal. Add to that, his sire, maternal sire, and maternal grand sire have all been tested in multiple
reference sire tests with high EPD accuracies. Physically, his dam is a typical Progress daughter:
deep ribbed, beautiful udder and teat placement and quick to re-breed. His dark red color, moderate size,
added muscle and capacity, and good semen production make him an exciting prospect!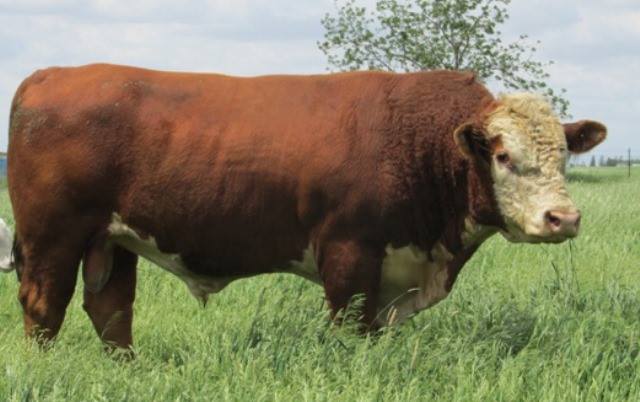 S REBEL 4R 73Z
CE -2.1 BW 4.9 WW 68 YW 106 Milk 22 M&G 56
Sire: MSU TCF Revolution 4R
Dam: S Logic's Cowgirl 31X (DOD)
Sold full posesssion to Wiese & Sons Manning, IA and retained semen interest for in-herd use only.
An outstanding home raised Revolution 4R son who we use on select basis in our AI program.
His dam is a Dam of Distinction as are several dams in multiple generations throughout his dam's pedigree.
GE-EPD enhanced, ranks in the top 5% or better in breed EPDs for WW YW REA BMI and top 15% for CHB

Reference Sires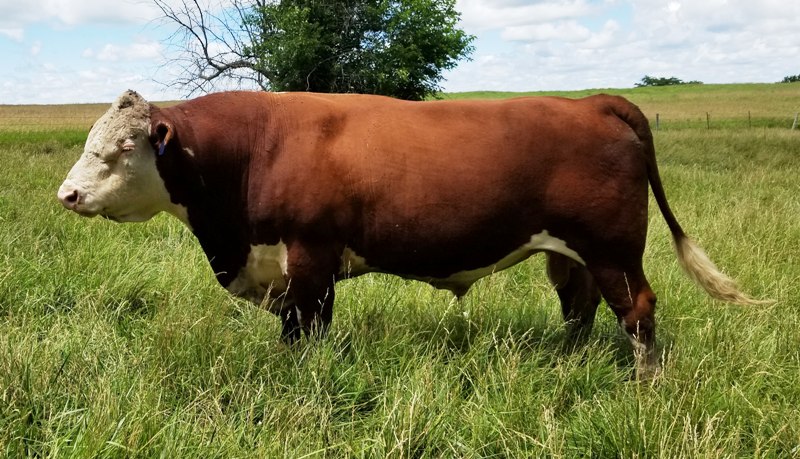 S MARKSMAN 936 84B
CE 7.3 BW 1.3 WW 62 YW 96 Milk 30 M&G 61
Sire: Hyalite On Target 936
Dam: Schu-Lar 32T of 402 18R
Sold to Twin Oaks Herefords, Montrose, IA. Retained in-herd semen rights.
Home raised 936 son out of a top performing Schu-Lar cow. Great combination of muscle, phenotype,
and balanced EPD's. He has added muscle and growth to the progeny he has sired.
GE-EPD enhanced and Homozygous Polled.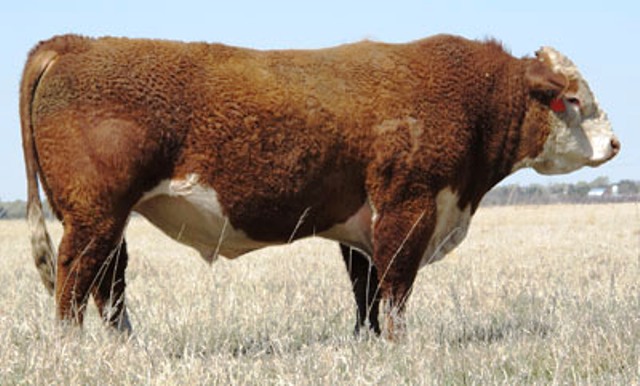 HYALITE ON TARGET 936
CE 5.5 BW 3.4 WW 72 YW 114 Milk 28 M&G 64
Balanced EPD's. Thick and Muscular.
Breed trait leader in 14 EPD categories.
Comments from Rausch Herefords: His progeny are proving him to be the thickest herd sire
we have ever used. His performance is also among the highest of any herd sire we have tested.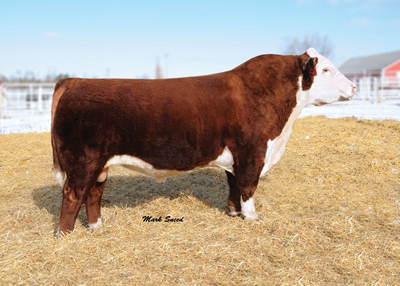 MSU TCF REVOLUTION 4R {SOD}
CE 4.8 BW 2.7 WW 67 YW 103 Milk 23 M&G 56
Notes from Genex: Revolution is a top combination sire for calving ease, growth and big REA EPD. His
daughters are recognized for their snug udders and small teats; whether purebred or baldies, they make
beautiful cows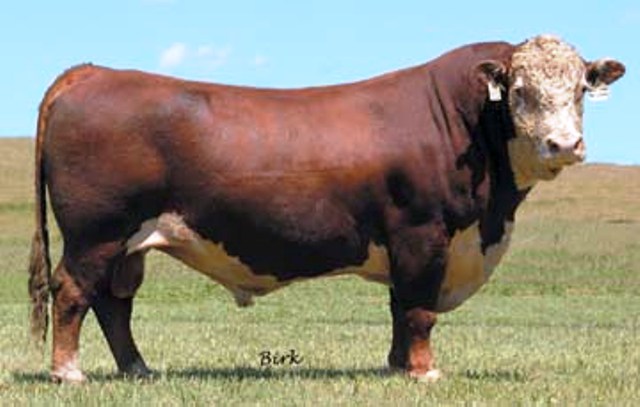 KJ C&L J119 Logic 023R ET {SOD}
CE 4.8 BW 1.6 WW 66 YW 100 Milk 23 M&G 56
Logic has become one of the most predictable sires in the breed.
He sires outstanding, highly efficient females and top bulls

INDEX
CE: Calving Ease
BW: Birth Weight
WW: Weaning Weight
YW: Yearling Weight
M&G: Milk and Growth